Prostitutes
As long as the thought of desire has been prevalent amongst mankind, prostitutes have always existed. Even dating back to biblical times, prostitutes have always been around. It is known as the world's oldest occupation. What exactly is a prostitute? Well, a prostitute is one who sells their body for money or other kinds of return. Most prostitutes are female, although male prostitutes do exist (more commonly known as gigolos). Female prostitutes are most commonly known as: prostitutes, hoes, escorts, call girls, courtesans, and whores (the English word whore deriving from the word hora meaning desire). Prostitution is a very misunderstood line of work. Many view prostitution as simply an easy way for easy people to make money. It is vile, disgusting, and does nothing but degrade our cities. These are merely opinions of those who have not had to sell their bodies to get by. True, some perform this activity as a means of pleasure because they have made that decision. For others, prostitution is not their first or even tenth decision. Some may see themselves forced into this business under pressures to raise their children better, or maintain a stable income to pay bills. For some, they feel they have no other choice, but they are persecuted nonetheless.
What You Didn't Know
The common misconception is that prostitution is nothing but scandalous behavior. In reality, prostitution is in fact legal in many areas. Prostitution is legal nationwide, mostly in different areas of Europe. The common stereotype of a prostitute is a street walker. This however, is only one type of prostitute. This form of prostitution is the most common, and illegal form of the trade. These prostitutes are usually dressed in skimpy outfits, and wait on street corners for clients. Once picked up, prostitutes usually perform their duties in a car, in a dark alleyway, or in a hotel (good for business). There are areas in the United States where prostitution isn't so concealed. While a lot of prostitutes sell themselves at night, hiding themselves in the darkness, there are places clients may go to enjoy their company in the day time as well, and under legal means. These places are most commonly known as cathouses, whorehouses, and brothels. Prostitutes may even be called upon to go to a client's house. These types of prostitutes are most commonly known as escorts. Many prostitutes also reside in message parlors, where their activities may be called on for an extra fee.
Legality Issues:
Another large issue that arises in the business of prostitution that justifies society's actions is the spreading of STD's. Although empirical data has not been studied on prostitutes, the idea of prostitutes accumulating and spreading STD's is very plausible. The answer to this issue has been : yet again, abolition, introducing a system of registration for prostitutes that mandates health checks and other public health measures , and last, educating prostitutes on the usage of protection. The problem with such actions is that, banning the activity would simply move it underground which would make it harder to aid in health risks for activities the government knows would still be occurring anyhow. Recognizing the activity introducing a system of health registrations makes the government complicit of the situation, and those who weren't registered would go unnoticed as a threat. Neither situation would help the cause.
The leading factor for the persecution of prostitutes is the fact that they have been a target for violent behavior at night. Prostitutes are easily vulnerable to rape, kidnapping, and even murder. Prostitutes are at risk of violent crimes, as well as possibly at higher risk of occupational mortality than any other group of women ever studied. For example, the homicide rate for female prostitutes was estimated to be 204 per 100,000. However, there are substantial differences in rates of victimization between street prostitutes and indoor prostitutes who work as escorts, call girls, or in brothels and massage parlors. Being criminals in most jurisdictions, prostitutes are less likely than the law-abiding to be looked for by police if they disappear, making them favored targets of predators. Many prostitutes turn to a pimp, or madam whom they pay in turn for their protection. Even so, most pimp-prostitute relationships are cruel and abusive.
Serial Killers
Street Walkers have become a common target for serial killers. Serial killers are said to consider them easy prey, and use the religious and social stigma associated with prostitutes to justify their murder. The unidentified serial killer (or killers) known as Jack the Ripper is/are said to have killed at least five (although other murders were involved but not proven to be from "The ripper") prostitutes in London in 1888. The name 'Jack the Ripper' has become the most infamous when it comes to murder. Yet, the fact remains, no one knows who he/she/they are to this day. In the years 1888-1891 the name was associated with terror by the residents of London and was known worldwide. Cloaked in mystery is this story, so much that the facts are hard to identify at this point in time. The officers of Scotland yard were given the duty of finding this murderer, but they never achieved their goal. Jack the Ripper was held responsibe for the murders of: Mary Ann Nichols (August 31, 1888), Annie Chapman (Sept 8, 1888), Elizabeth Stride ( Sept. 30, 1888), Catherine Eddowes (that same night), and Mary Jane Kelly (Novemeber 9, 1888). Throat slicing attended the murders of Nichols, Chapman, Stride, Eddowes, Kelly, McKenzie and Coles. In all except the cases of Stride and Mylett there was abdominal mutilation. In the case of Chapman the uterus was taken away by the killer; Eddowes' uterus and left kidney were taken; and in Kelly's case, evidence suggests, the heart.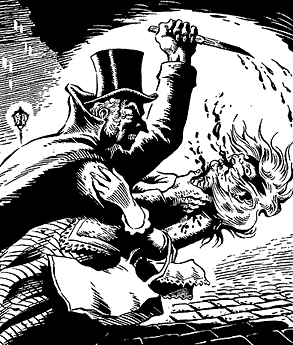 -Jared